Allison Shepherd February 28, 2019 at 15:36 PM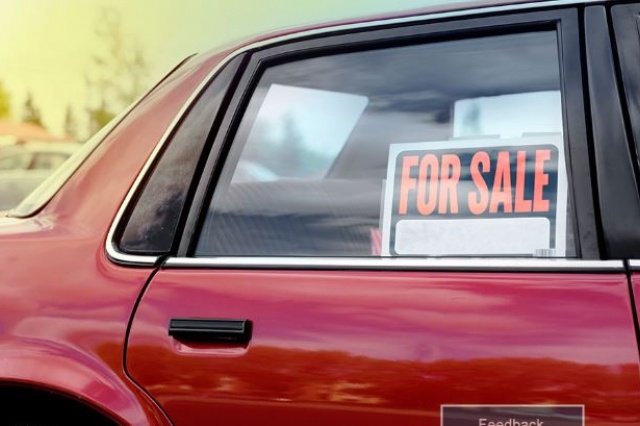 Do you need to sell your car so you can upgrade to a vehicle that better fits your lifestyle? Maybe you landed your first job and want to reward yourself with a nicer car, or you're starting a family and need to swap your convertible for a minivan. A vehicle change is going to prompt some insurance-related questions in the process, so you'll want to do your homework before you get too far down the path of a new, or "new-to-you" vehicle. And while selling your used car can help to fund the purchase of a new vehicle, the process can take some time and effort. Follow these tips that may provide a "smoother ride" to selling your car.
1. Decide where to sell your car. The first question to ask: Where should you sell your used car? Options include:
Selling on your own locally;
Selling through an online car marketplace; or
Selling your car to a dealer.
Each option has pros and cons, so choose based on what matters most to you. For example, selling on your own may take more time and legwork but may land you a better price. Some online car marketplaces require a fee to list your vehicle for sale, but that option may give you access to a larger number of potential buyers. Finally, selling to a dealer might lower the sale price but could put money in your pocket sooner.
2. Learn how to sell a used car in your state. Before you take action, brush up on the ins and outs of how to sell a car in order to help avoid making a mistake or skipping an important step.1
First check with the Department of Motor Vehicles (DMV) in your state for a list of requirements for title transfer.
Most states require that you and the buyer fill out a Bill of Sale as well as a "release of liability" form to protect you in case a crash occurs after the buyer drives away.
For added protection, you might consider completing the sale at your local DMV office, so the buyer can apply for a title and get license plates before taking possession.
Be sure to talk to your agent ahead of time about the best time to cancel the auto insurance policy on your previous car.
3. Research used car values. Knowing how much your car is worth is key, no matter where or how you plan to sell your vehicle.
Look up the value of your used car and check local online classified ads to compare how much similar vehicles are selling for in your area.
Start by gathering any paperwork that outlines specific features of your car, and by checking the odometer.
Then enter details including the make, model, year, features and condition of your car into a used car valuation tool. The private party price is the amount you might get if you're selling the car on your own, while the dealer trade-in or sale value is typically lower by hundreds or thousands of dollars. Knowing the value of your car will help you to set a price fairly or to confidently negotiate with a dealer.
4. Prep your used car for sale. Taking time to get your used car ready for sale may help you to sell it sooner for a higher price. You don't have to be an auto mechanic or a professional car detailer to get your ride in better shape.
First, gather all of the warranty information and other records you have for your car and tuck them into a folder to show prospective buyers. If you don't have documentation of routine maintenance done on the vehicle, ask your mechanic to print the service records for your vehicle.
Wash your car, clean out the glove box and trunk, and give the interior a deep clean. Also consider getting a car inspection and report from a reliable mechanic.
5. Plan ahead for test drive requests. Many buyers will ask to test drive your car before committing to buy it. However, just handing a stranger the keys to your car can be risky.
Instead, call your agent or insurer first to ask whether your auto insurance policy allows test drives.
Also ask whether your insurance or the prospective buyer's auto insurance will cover vehicle repairs in case of a mishap during the test drive.
Check and snap a photo of the prospective buyer's driver license.
Meet at a safe place such as a shopping center, police station or local DMV, during the day.
Consider bringing a friend or relative along for added safety.
6. Check insurance costs when replacing your car. Are you planning to buy a new car as soon as you sell your used vehicle? Keep in mind that getting a new car can cause a change in your auto insurance rates. Car variables that can affect the cost of insurance include:
Price.
Repair costs.
Theft statistics and the safety record for that make and model.
To help offset a potential rate increase, ask your agent about ways to help lower your car insurance costs. For example, you may be able to bundle your home and auto insurance policies, raise your deductible or take advantage of discounts. In fact, many insurers offer price breaks for low annual mileage, taking a defensive driving class or staying accident free for a certain period of time.
Following these tips can help put you on the road to selling your used car quickly so you can soon slide behind the wheel of your next vehicle – with the peace of mind that comes from doing your homework first.
No Blog Comment Available