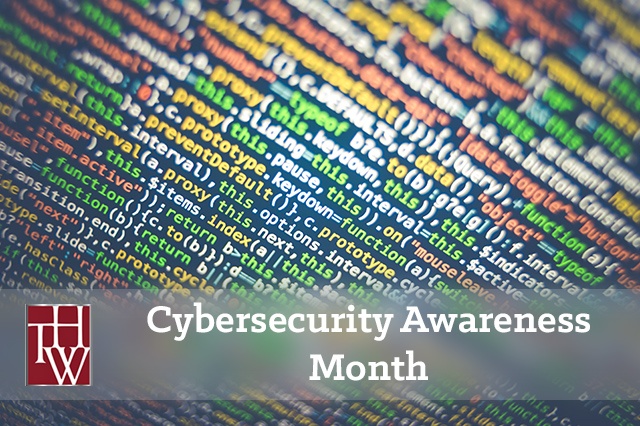 We live in an era in which we rely on technology during our day-to-day life in the workplace and at home. This reliance will continue to rise with recent innovative developments in technology because it makes our life easier. However, it is crucial to be aware of the information that you are putting out on the World Wide Web because unfortunately there are predators lurking to steal your personal data and your business's data. Here at THW, we offer cybersecurity insurance to help safeguard your personal data in the case of identity theft and coverage for your business if a cyber security incident occurs.
Since cybersecurity is a newer insurance policy, it is often misunderstood. Cybersecurity Insurance is standalone coverage. It provides a response plan for companies, whose data is lost due to a security breach or other cyber occurrence, such as a network outage or service interruption. Cybersecurity insurance is critical for companies to acquire to build an all-inclusive strategy for risk management and response.
First-party and third-party are the two types of cybersecurity insurance available.
First-party coverage is what most business will need to protect them from cyber threats. It protects against the losses undertaken by the insured and can include reparations for some of the following incidents:
Data and software damaged or lost digital assets

An interruption of the insured's computer systems that causes lost business opportunities or increased operational costs

Cyber extortion

Stolen money through an electronic crime
Companies who manage the software, network, or system that holds the compromised data prefers third-party coverage. Third-party plans typically cover the following costs associated with the following unfortunate events:
Employment confidentiality security breach

Customer data and information loss

Customer notification after a security breach

Public-relations efforts including fighting defamation and intellectual-property violations
President Trump has declared October as National Cybersecurity Awareness Month, and we at THW recognize the importance of cybersecurity and offer our expertise in insurance to help protect you and your business against cyber threats in our current digital age. Please contact our office to have a conversation with us so that we can provide you with the information, guidance, and tools to insure the safety of you and your business.
No Blog Comment Available