Debra Harp March 27, 2018 at 16:48 PM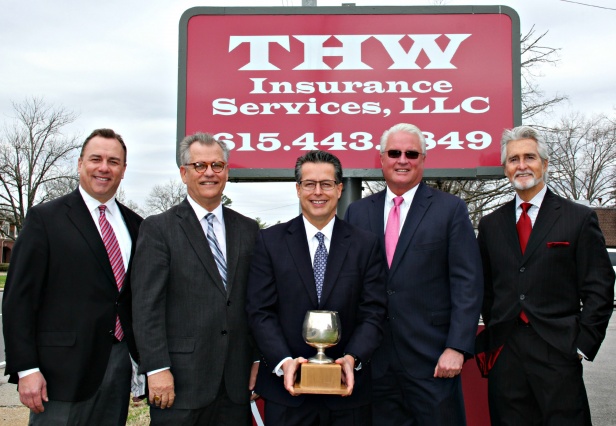 1st Annual THW Partners Club Award, presented to Carl Ragland.
THW Insurance Services, LLC. recognized Carl Ragland as the first recipient of the "Partners Choice Award" for outstanding leadership, production and dedication to the local independent insurance agency and the customers they serve. "Carl is a team player and is a great example to fellow employees as well as our customers he serves daily," said Rick Thorne, THW Insurance Services, LLC. partner. Ragland oversees the Personal Lines Department for the THW Insurance Centers located in select Wilson Bank and Trust offices across middle Tennessee. Ragland was presented the inaugural award during a recent agency employee meeting. Presenting the "Partners Choice Award" to Ragland are (from left to right) Jud Nave, Rick Thorne, Richard Whitener and Brownie Hall.  Ragland has been a licensed agent for Life and Health and Property and Casualty since 1998.  Carl graduated from Lebanon High School, and then received his B.S. degree in Business Administration and Marketing from Cumberland University.  Carl has been with THW Insurance since 1999.  Carl is married to Gina and they have twin daughters, Molly and Jenny.
No Blog Comment Available