Allison Shepherd April 29, 2019 at 09:32 AM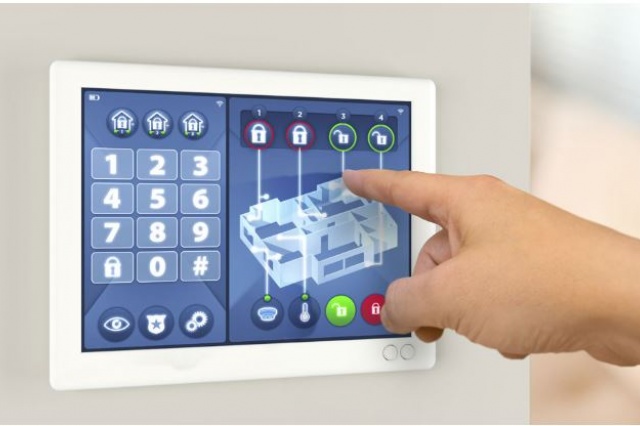 In 2014, criminals committed more than 8.2 million property crimes in the United States, of which nearly 21% were burglaries, according to the Federal Bureau of Investigation (FBI). 
With those types of statistics, it is no wonder home security systems are on people's minds. But in a world where technology seems to evolve every month, home security systems have ventured into new territory: smart alarms.
What Is a Smart Alarm System?
As recently as 10 years ago, consumers did not have access to technology that let them manage their own home security systems. Smart alarm systems changed that. Originally, traditional security systems were hardwired into the home and monitored by a central station, usually a home alarm company. The customer paid monthly fees.
Fast forward and today, consumers have smartphones, home networks and wireless technology—all of which the smart alarm system can utilize. People can buy door sensors to detect if someone is outside or door locks that can be monitored and potentially controlled from one's cell phone.
In essence, smart alarm systems may be able to empower the customer to build their own network of security while retaining control, usually through their cell phones.
What Are the Benefits?
More and more homeowners are installing their own smart alarm systems. The benefits are many, including:
Price: Smart alarm systems can be cheaper because customers avoid paying someone else to install or monitor them.
DIY: Many people enjoy the do-it-yourself aspect of smart alarms, since they can choose the technology and components that they feel best meets their needs.

Control: Because smart alarm systems do not need to involve an alarm monitoring company, the customer can retain control. Many homeowners prefer this level of involvement in monitoring their home security.
What Are the Challenges?
One of the challenges smart alarm systems pose to the consumer is the risk of being hacked. Improper home network configurations, flaws in the devices or password compromise could allow a hacker to break into the system and determine if anyone is home, or even seize control.
Homeowners can take these three precautions to help prevent hackers from accessing their smart alarm systems:
Secure the device's password. Passwords can include a mixture of upper and lowercase letters, as well as numbers and other characters, such as question marks or exclamation points, to help increase security. Also, change default passwords and avoid reusing passwords on multiple sites.
Understand the device and data it processes. Some devices may take photos or videos that may present privacy concerns. Some smart alarm systems rely on cloud technology for data storage and processing. Users should fully understand any privacy implications of the device and related data, as well as any protections afforded by the device manufacturer. For instance, is video from a camera retained, and if so, is it encrypted and protected if it is sent to cloud storage?
Apply software updates. Many smart devices are new to market and may contain programming flaws. It is important to apply security patches and updates when made available by the manufacturer.
Additionally, recognize that your entire system may not be designed to function during a power outage. To help ensure that your system continues to function during a power outage, if you do not have an automatically starting generator, consider employing sufficient battery back-up to power the Wi-Fi system, control panel and all the security monitoring equipment.
Consumer access to smart technology goes well beyond home security, enabling consumers to manage and monitor many aspects of home ownership, such as water-leak detection, loss of building heat, the ability to open or close garage doors remotely and the ability to turn on or off small appliances or lights. Whatever technology you are planning to use to monitor or control aspects of your home, Travelers professionals emphasize reaching out to an organization or individual with expertise in smart home technology for help.
No Blog Comment Available