Debra Harp June 06, 2017 at 09:46 AM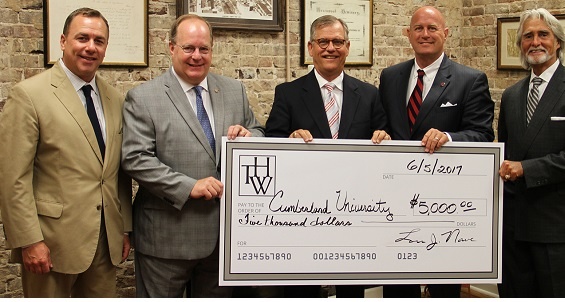 NEWS RELEASE                                                 
Westfield Insurance Foundation's Legacy of Caring Fund
Benefits Cumberland University
Lebanon, TN, 06/05/2017, -- Cumberland University received a grant from Westfield Insurance Foundation thanks to the help of THW Insurance Services, LLC.  The grant is part of the Westfield Legacy of Caring program, which invites Westfield independent insurance agents to nominate a local nonprofit in the areas of disaster recovery, insurance pathways, family stability or safety.  
"Thanks to the generous donation from Westfield Insurance Foundation, we can increase our efforts toward scholarship funding for Family Stability said Cumberland University.
"We have strong relationships with our agents, and we value the important role they play in their communities," said Ed Largent, Westfield President, CEO, board chair and Westfield Insurance Foundation chairman.   "Our agents help provide peace of mind and security, and the Legacy of Caring fund is an extension of the fundamental role insurance plays every day stabilizing families, businesses and communities." 
"THW Insurance Services and its employees are proud members of the Lebanon, Wilson County community.  Our collaboration with Westfield allows us to further our citizenship efforts and have impact in critically important initiatives," said Rick Thorne.
Cumberland University is one of 78 nonprofits nationwide receiving a Westfield Legacy of Caring grant – collectively totaling nearly $550,000.  Westfield is proud to work with their independent agents in distributing nearly $1.3 million since the onset of the Legacy of Caring program in 2015.
THW Insurance Services, LLC
321 W. Main St.
Lebanon, TN 37087
615-443-3849
Cumberland University
One Cumberland Square
Lebanon, TN 37087
About Westfield Insurance Foundation
Westfield Insurance Foundation was established in 2005 as an independent private foundation endowed by Westfield Insurance. In keeping with the values of Westfield Insurance, the Foundation exists as a dedicated community and industry partner; concentrating resources to have an impact on safety, disaster relief and family stability. The Foundation donates over $3 million annually to a variety of charities.

About Westfield Insurance
Westfield Insurance is a part of Westfield Group, a customer-focused insurance and banking group of businesses headquartered in Westfield Center, Ohio, and in business for nearly 170 years. Westfield Insurance provides commercial insurance in 21 states, personal insurance in 10 states and surety services to customers in 50 states. Westfield is one of the nation's 50 largest property and casualty insurance groups, represented by a network of more than 1,000 independent insurance agencies. Westfield Insurance has won consecutive Gold and Silver Healthy Ohio Worksite Awards in 2016 and 2017 from the Ohio Department of Health and Healthy Ohio Business Council. Westfield Bank provides banking solutions for businesses and individuals, and Westfield Services provides service and training support for independent insurance agencies. Learn more about Westfield Group at www.WestfieldInsurance.com and www.Westfield-Bank.com.
###
No Blog Comment Available